So...I think I'm going to have to give in and buy myself another melmer. Or maybe a helmer. My attempts at purging are just failing miserable and my buying just keeps going up and up...I so need a ban again. I'm allowed 3 purchases in June;
Elevation Polish
on June 7th,
Cult Nails Fairy Tale Collection
sometime before June 15th (and I know I could just get it now but somehow waiting makes me feel like I have more restraint?) and
a-England Jubilove Set
sometime before June 10th. And yes, same deal, could get it now but the thing is if I try and go totally no buy in June I will fail miserably. At least these are planned buys! Unlike today's
Pretty and Polished
haul or yesterday's Sephora order or the Harlow & Co order over the weekend...you can see why I need a ban right? But it's my birthday on Monday! I needed those treats right? ...Riiiiiiiiiight. ANYWAY, let's talk about what's on the nails now. Ohmigosh I'm in love. Picked up Essie Camera from the Poppy-Razzi collection the other day at Meijer (umm and maybe Action and Bazooka too...I'm trying not to cave and get Lights too to have a complete collection. Hard to say if I'll win there.) on a whim since pinks are so not my thing but it was sitting there looking so bright and pretty and I'd already decided on the other two so Camera just kinda...hopped into the basket. Oops! Still, I was in the mood for something super bright and pink yesterday so on it went and now I'm so glad I grabbed it because the formula on this is amazing and it's so pretty!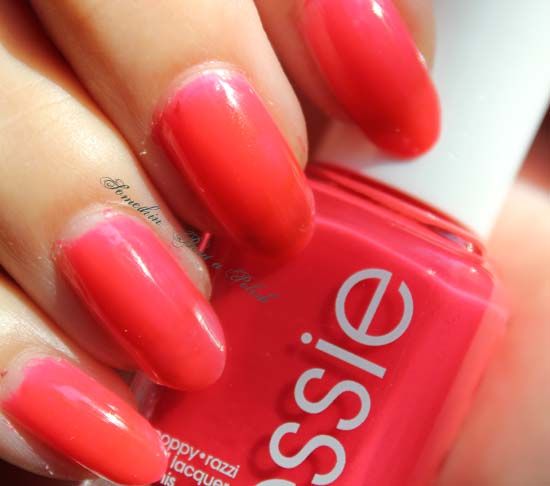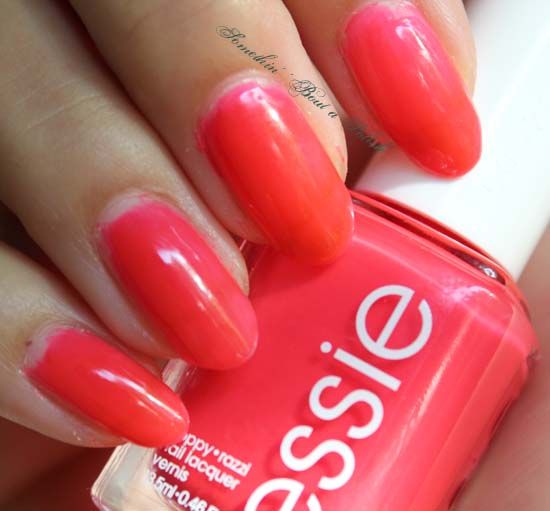 See see! (and sorry for the messy pics. Took them this morning before work and applied late last night right before bed so didn't really clean up. It's much worse in the upcoming pics tragically.) Two coats and totally self leveling and I just want to wear it forever! Except then I managed to hit my not quite dry thumb on the night stand and tried to patch it up instead of taking off and reapplying but it looked all bumpy and weird so I decided it was the perfect time to try out that
sponge gradient
mani everyone has been doing. It turned out...not great. Well actually the first two nails I did were fine but then it was late and I got impatient so I just rushed the last 3 and it very much shows.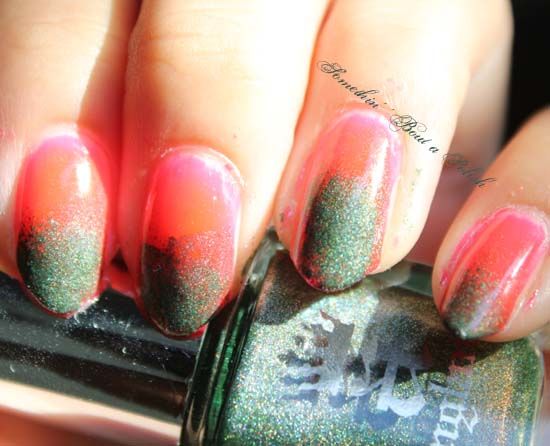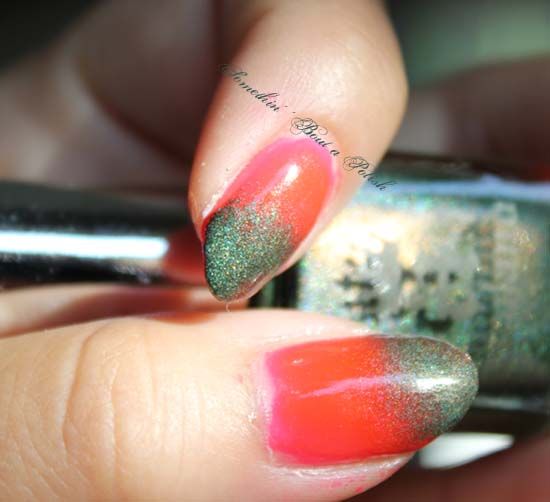 Plus the contrast is a bit much so I don't think the colour combo worked as well as it did in my head. Still, glad I tried it since I think I can do it better next time and I really adore the look.