My biggest regret with this mani is that I didn't properly take off my previous mani before putting it on although to be fair, I really thought I was going to grab a vampy and we know those hide all flaws. You can see that acid green poking through, don't worry, we'll get to her later.
Fashion was a gift from a lovely lady and I love it so much. I never ever thought I'd love nudes but after the disaster that was my first one (Zoya Pandora, lovely and pink toned and so so so wrong for me) I became determined to find one that worked for me and along the way I just started collecting them.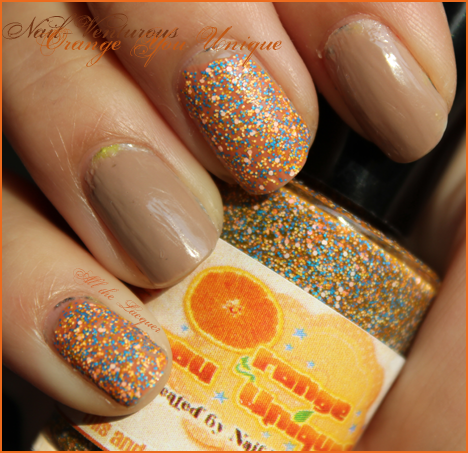 But of course, I'm me. And I just can't leave well enough alone so I hunted around my untrieds for something to do a quick accent with and saw Orange You Unique from my NinjaPolish order sitting there begging to be tried.
Guys, let me tell you about
Nail-Venturous
. She created this gorgeously unique np called Floam (yes, like that
weird stuff
you saw commercials for on Nick in the mid 90s) and it totally hit it big and now she has an
etsy
shop as well as polishes on Ninja Polish one of which is the orange/blue version of Floam, Orange You Unique. I went a little crazy at her shop debut and now have 5 more coming to me (including Floam! Which was already sold out by the time I placed my Ninja order)
Humm, anyway, put it on one finger. Left it for a day.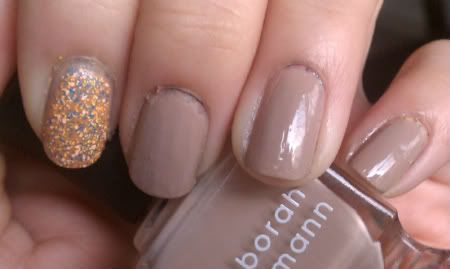 And then decided I needed it on alternating fingers. Because that's how I roll.