First! How awesome is
Ninja Polish
? I'm supposed to be on a low low low buy right now and just spent $100 there this morning (but ok about 1/4 of that was for my bunny on the TPF secret bunny exchange but still) including one of their exclusive NerdLacquers, Acid of 1000 Fangs. Sometime once my bank account has recovered and they've recovered from the stampede I'll pick up Eight Gates too. I love that they're based out of Palatine too which is like an hour away from me.
Second! Got some tattoo work done today and it was the most painful 2.5 hours. I don't know, normally once I'm there and getting inked I relax into it and the endorphins kick in and I can just hang out but this
hurt
. I think it was the location and the full colour instead of just shading. Still it turned out great and hopefully when the house gets done in a few weeks it'll be better since it's lower. The balloons are definitely in a sensitive spot, especially the closer to the ass you get.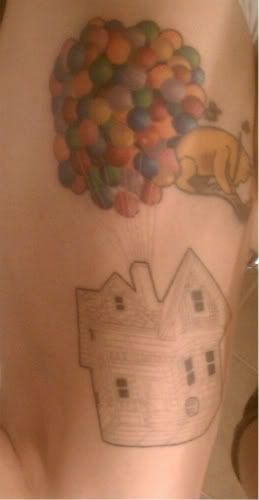 Yes, it's the house from Up. Someday in the next few years I'll have all the elements of the dream scene done (the plan for the entire leg is to have a twisted tree with a girl sleeping under it down on my calf with the thigh being her dream scene) and we'll tie it together with clouds and shit so Pooh won't so awkward next to the balloons but that's a ways off.
Whatever, enough babbling, I know what you're interested in. So when I did my Cult Nails Swanbourne/Dollish Polish Toxic Avenger mani, before I took it off I put NerdLacquer Aurum on one hand and Exterminate on the other. The quality isn't great and there's some very very very obvious SV shrinkage but here you go.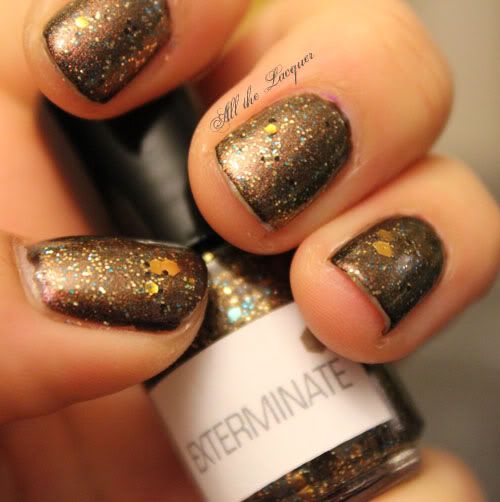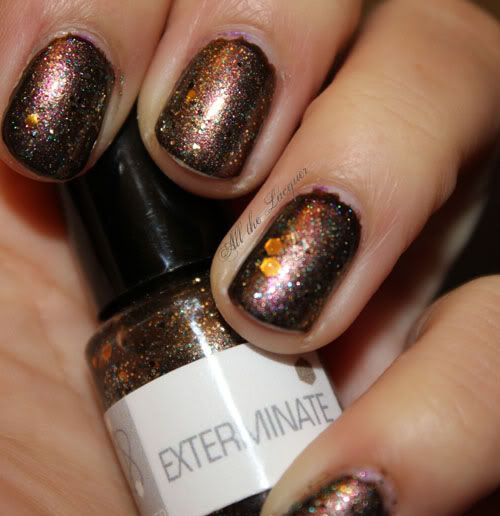 I adore Exterminate and can't wait to use it for a proper mani. Daleks are so much fun! I have
this
shirt from TeeFury so how could I not love
Exterminate
?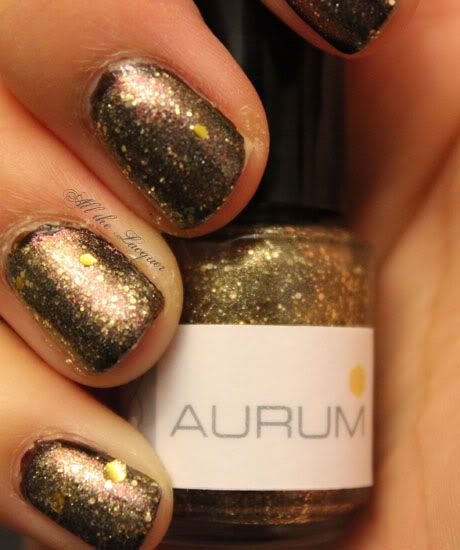 Aurum I'm less in love with. The chemist part of me of course loves it and it's very pretty but it's just not as jaw dropping as some of Amanda's other creations.
I have Holy Grail on right now and I'm really hoping it'll be sunny tomorrow so I can take some proper pics showing the holo. But trust me, it's amaze.