Ok normally I try and post good pics of my manis taken with my shiny new camera (and yes it's still considered knew, I just got it at Christmas folks) but I neglected to take pics with it of this mani so you're just getting some crappy cell phone pics.
First, SpaRitual Sacred Ground on it's own. I
love
this polish! Yeah yeah there's tons of greys with shimmery whatever in them now but this was the pioneer and it's amazing. It looks exactly like it does in the bottle on the nail and then it flashes purple and copper and blue gyah I just love it.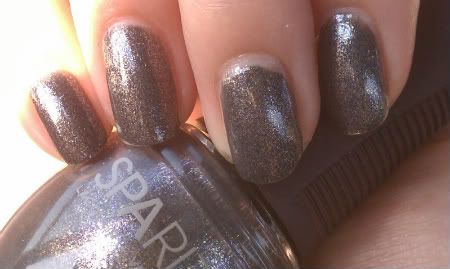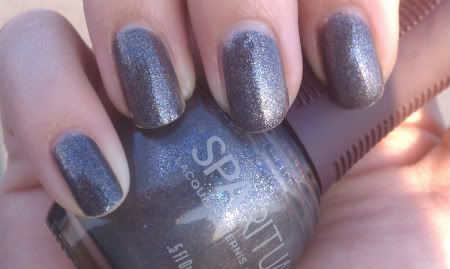 But sadly about 10 hours after I put it on I managed to chip it at work (I can never blame the np when it chips at work, I'm so hard on my hands. I'd like to think someday I'll learn to be careful but...yeah I know that's never going to happen) and I was too lazy to take it off so I decided to do a glitter gradient using Wet 'n Wild Bow in my Presence from the Be Jeweled collection (dupes to China Glaze Prismatics). Look, I don't know why I own this. All I know is I was at Meijer one day and saw an untouched display of the Be Jeweled collection and suddenly I'm the owner of all 5. I wasn't even interested in them! Oh hive mind. Anyway, I love the idea of duochrome glitter! This one flashes blue to purple.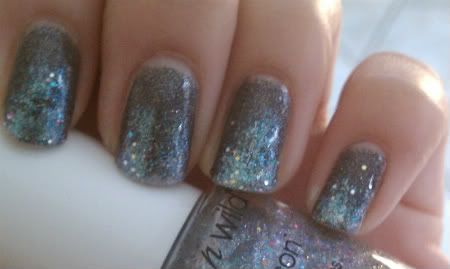 The blue? Super easy to capture. The purple? Oh god that bitch would not come out at all on camera. I could see it there on my nail looking all nifty and purpley but my phone had such a hard time picking it up.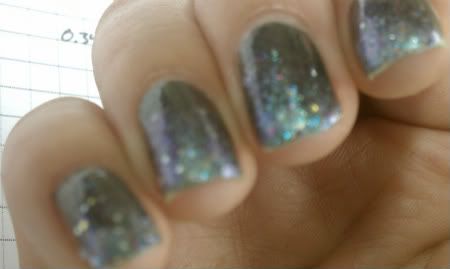 You can see it a little bit around the edges in this blurrier photo but it took some finger gymnastics to get a proper purple. I'm so sorry that my hands look like feet and my nails look so unflattering. But look, purple!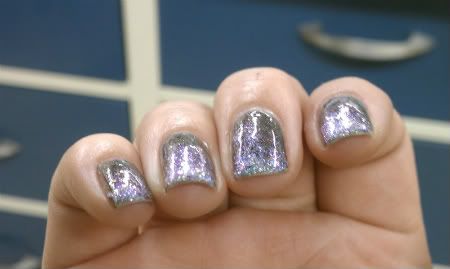 Bam bitch! Whatcha think about that? If I wasn't so pleased I finally got it to show up that photo would have been deleted so fast, I'm still in awe of how unattractive my hands look in it.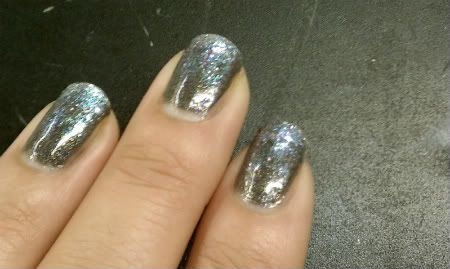 Oh and sometimes the duochrome glitter almost disappears just leaving the larger multi coloured glitter hanging around.
Overall it's a fun polish although I'm still not sure why I own it since it's very not me. I really want to perform surgery on the brush though, whoever told WnW that they need those hugeass wide brushes for those itty bottles was so on something.